Leasing vs Buying a Car

---
Gearing up to lock in your next vehicle? First, you'll want to consider your payment options: leasing and buying. Shoppers near Colorado Springs, Cimarron Hills, Fort Carson, and Canon City can learn more about the benefits of both options with Red Noland Cadillac.
Our finance team has years of experience working with all kinds of finance plans. Read ahead to narrow down your search for your next-car financing plan.
---
---
Overview: Buying vs Leasing a Cadillac
Benefits of Buying

Benefits of Leasing

– Tons of options to choose from

– Ability to customize the vehicle

– Ownership at the end of the loan

– May not need a down payment

– Maintenance coverage available

– Can bump up to a better trim level
---
Why Should I Buy a Cadillac?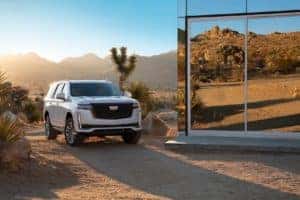 The option of buying a car appeals most to those who want to make a long-term investment. You have the option of buying the vehicle in full upfront, but the most popular way to go about purchasing a vehicle is with a loan.
The loan process includes paying a down payment of around 20% of the vehicle's total cost. The lender you choose will pay for the vehicle and you'll pay them back in monthly increments. Once the loan is fully paid off, you'll own the vehicle which is the top benefit of this option.
There are many other benefits to considering a loan for your next vehicle, including:
Selection: When you choose to buy a vehicle, any model you choose is up for grabs, including pre-owned models and models no longer in production.
Personalization: Ownership of the vehicle means being able to make it truly yours. Get a custom paint job or a brand-new infotainment system.
Asset: Since you own the vehicle, you'll be able to use it as leverage for your next vehicle. Use it as a trade-in when you're ready for your next ride.
---
When Leasing is a Good Option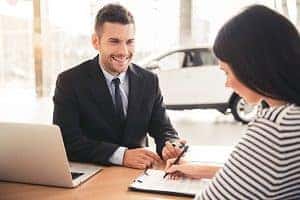 A lease is ideal for those who need a ride right now. You can lease a vehicle anywhere from several months to several years, and you'll often have the ability to customize other parts of your lease agreement.
First, you'll choose a late-year model at the dealership. Then, you'll finetune the terms of your lease with the finance team.
Lower Payments: On average, monthly payments for a lease are lower than what you'd pay towards a loan per month. Plus, you may not need a down payment.
Maintenance Coverage: The late-year status of leasable vehicles usually means the vehicle is still covered under warranty. Plus, the lease price usually covers some portion of any routine maintenance your vehicle may need throughout your lease.
Latest Features: With a lease, you'll be able to shop the latest models. Thanks to lower-than-average monthly payments, you may have wiggle room in your budget to upgrade to a higher trim level.
---
Should I Lease or Buy my Next Cadillac?
Whether you choose to buy or lease your next vehicle, our finance team at Red Noland Cadillac is ready to help. We work with a wide range of Colorado Springs, Cimarron Hills, Fort Carson, and Canon City lenders to provide our customers with the best options possible.
Get the ball rolling on situating your financing today by filling out our online pre-approval application. Then, one of our friendly finance experts will be in touch as soon as possible.
---