Used Cadillac Dealer near Me


Are you on the hunt for a luxury automobile near Colorado Springs or Cordera, Colorado? What about something pre-owned that fits your lifestyle in Briargate or Cimarron Hills, Colorado? Luckily, all of the above is available to you at Red Noland Cadillac.
It's here you'll find a wide array of automobiles along with staff members who take great pride in guiding each customer through their car-buying journey.
Keep reading to learn about the amenities at our used Cadillac dealer. After that, click on any link on this page to learn how we can serve the drivers in your town specifically.
Finding a Used Cadillac near You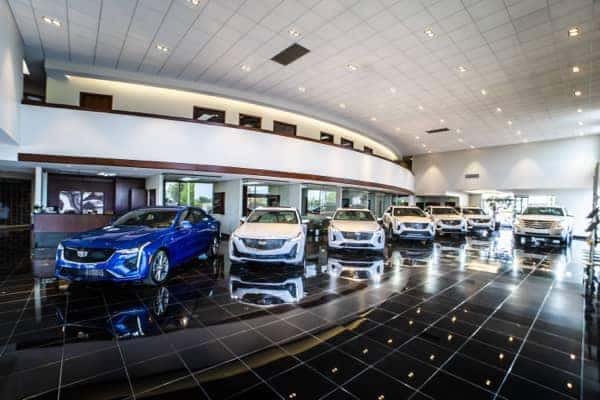 Between our sedans and SUVs in different colors and trim levels, it's easy to find the right pre-owned model for your daily commutes. You may also find certified pre-owned options that have been thoroughly inspected by factory-trained service technicians.
You can view our full used car inventory online for your convenience. Either browse through each listing one by one or use the search filters to find vehicles based on things like:
Body style
Exterior color
Mileage
Features
Once you've looked through our offerings, you can decide which ones you'd like to test drive. When you take it for a spin, make sure the steering is good and the brakes are effective. Also check that the controls in the cabin are easy to reach and work properly.
By completing all these steps, you'll have a clear indicator of which ride is ideal for you.
---
Used Cadillacs Models for Sale
---
Streamlined Financing Process

The next step is to go through the buying process that can be completed right inside our finance center.
However, before you do that, you can utilize the different financing tools we have on our website, including:
Credit application
Trade-in tool
Vehicle protection plans
After viewing them and filling out any necessary information, stop by our dealership to meet with one of our financing experts. They'll look over your budget and come up with a payment plan you're happy with. Then, they'll work with local banks and lenders to get a loan with terms you'll feel good about.
Expert Automotive Service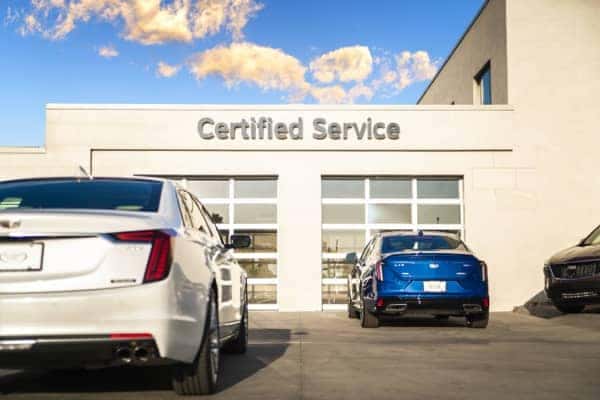 Not only can we help you find and buy a car, but we'll also help keep it in tip-top shape for a long time.
This is done inside our state-of-the-art service center, where we work on pre-owned Cadillac models on a consistent basis. It's here we'll complete standard maintenance tasks like:
Brake inspections
Oil changes
Tire rotations
We can also take care of any major repairs your vehicle may need. The good news, too, is that we only use genuine parts for needed replacements. Not only will these parts fit inside your automobile like a glove, but they'll also help keep it in top form for many years and miles to come.
Visit Our Used Cadillac Dealership near You Today
Whether you live in Colorado Springs, Cordera, Briargate, or Cimarron Hills, CO, there's a used Cadillac dealership located near you. Whether you need assistance finding the right model, want guidance on the financing process, or have to schedule a service appointment, the team at Red Noland Cadillac can help.
To learn more, click on a service area link on this page. Then, contact us when you're ready to begin your car-buying adventure. We look forward to working with you.
The team at Red noland are amazing! Craig was super helpful super responsive and so nice! They definitely work with you here and give you all the info you need. I really enjoyed working with Craig and the rest of the team here. Also due to my circumstances they DELIVERED my vehicle to me! Couldn't say anything bad! You guys are awesome!
Had a great experience with Craig buying my 2015 Audi A4! So happy with my purchase. General Manager Chris gave me a good price with my trade-in. Dionne, in Finance, made my purchase effortless, and very easy. Paperwork was minimal and everything was explained to me completely. Craig picked the right vehicle for me; from the wide selection of vehicles they had on hand. Craig was very knowledgeable about the vehicle I purchased and explained the history of it completely, according to the Car Fax Report given to me. A very great experience!! 👍
This was the easiest car purchase that I have ever had. Definitely recommend to anyone. Also, got a great trade-in price. Come see these folks.
Sales and Service personnel are outstanding. Salesman, Gil Archuleta, was exceptional and went above and beyond several times to make sure our experience with Red Noland was top-tier. Even after the sale he has followed-up with us to make sure we didn't have any questions or concerns. We would definitely return to work with Gil again. The Service personnel, John and Peter, also are outstanding and made sure we were satisfied and happy before we drove off.
Rednoland was great to us, super helpful and offered to hold the Jeep for us until we could arrive. Great customer service and friendly sales reps!
I've got to say that Red Noland Pre Owned and Lenita Zubrin made it efficient & easy to buy a new vehicle. After an online inquiry I quickly had a video of the truck in my email box with all the detail I could want. The price brought me to their website, but their professionalism and sound answers brought me to a purchase. Many times, after getting a deal done the worst time comes in the finance office and the high-pressure warranty dealings. Heather made it quick and painless, and I was out the door driving my new to ...
Great experience all around buying from Red Noland Pre-Owned! We were helped out by Greg Hammond and he showed he really cared about his customers. Any question we had was answered, and the buying process was made simple and easy. We never once felt like the dealership just wanted to make a quick buck. I would definitely recommend checking out this dealership, and will look here again when buying another car.
LeNita picked me up at the airport. I was driving home in my new pre-owned car two hours later. Excellent customer service throughout the entire purchasing process.
Great customer service! Sold my car and bought a truck. Creig barela was easy to work with along with the sales manager and Tiffany in the finance department. I recommend Red Noland to everyone!
I would recommend this dealership to anyone. Everyone was respectful and very patient. Financing was very easy and I got my dream Jeep. My test drive was great. I loved every moment. I wasn't even there all day.
My husband and I had a fabulous experience with our truck purchase at Red Noland Pre Owned. From start to finish, I cannot say enough positive things about the team. Craig, our salesperson, was super responsive, answering all of our questions at lightning speed; he is a true professional, not to mention a really nice guy. Greg, one of the managers, was also awesome - he helped with the negotiations, made us feel comfortable and was patient with us in this big decision. He also gave us a great deal on our trade - in. Everyone we encountered in the ...
Looked all over this little town of Pueblo but no one had the deals that Red Nolan has in Colorado Springs. Dealership was a pleasure to work with. Explained all the aspects of the warranties available and took away all my concerns about any future out of pocket expenses for repairs or loss.
I worked with Rick Dymek on the purchase of my Audi. Rick made the buying process simple and even picked me up from the airport! I enjoyed working with the whole team over at red noland! Thank you guys for your superior service!
Excellent service. Craig was very fast to respond and gave great service during my purchase. Chris the GM runs a very clear and transparent shop. Highly recommend!
LeNita Zubrin made our car-buying experience most favorable. She efficiently lined up several cars for us to try; patiently navigated us through the purchase, treating us like 'friends' and valued customers. We are very happy with our 'new car to us'!
Everything about the shopping and buying process was excellent. The staff are knowledgeable and respectful. They treated me like a valued, educated customer. My new XT6 is gorgeous and I couldn't be happier with the experience.
Rick was the associate, who helped when we arrived and started looking at vehicles. Rick did a great job of answering any questions and concerns we had. The process of trading in our vehicle for a larger family vehicle was fast and easy. I would highly recommend.
We contacted Red Nolan Infiniti about a used car they had on the lot and to see if it was still available. I was contacted by Jordan shortly afterwards to setup a time to meet. After meeting and looking at the car in question he then pulled up several other cars within the network that were what we were looking for. At no point in time was he pushy, make themselves sound better than other dealerships, or do anything else that could put a person off. Of course there was a little "look at our brand car" but ...
I hadn't bought a car in a long time and wasn't sure what to expect. Everyone at the dealership was very friendly but never pressured me into buying anything. They answered my questions and were knowledgeable about the products. They walked me through all the bells and whistles of the vehicle. No pressure to purchase "extras" and even followed up the following Monday see how I was enjoying my purchase. I would definitely recommend this dealership if you are in the market for a new "used" vehicle.
Back in the day my Mom and Dad always bought their Cadillacs from Red Noland, never thought I would buy a Ram from them! Anyway the service was just the same for a used as a New. My salesman Rick was informative because I knew very little about the Ram. Thanks would buy from them again!
I've used Red Noland multiple times in the past (Lenita) and recently worked with Craig. The transaction couldn't be any more seamless or easy! They always disclose all information, promptly answer any questions and communicate throughout the process. Heather in finance was also easy to work with so that is valuable as well.
Travelled from Texas to Colorado Springs to purchase a new vehicle. Worked with Tyler on the purchase. Brilliant service. Any and all questions answered in a prompt manner. Everything was ready to close on the car. Simple no stress service overall. Heather from finance was great to work with also. I will DEFINITELY purchase another vehicle from Tyler and team. Thanks for making the purchase of our first Cadillac easy and uneventful.
Rick always super friendly and easy to work with. Financing though ENT painless and closing was efficient too. Really good place to find quality SUV's.
Mike Noonan was wonderful. He made our purchasing experience easy and relaxed. He was the best salesman compared to others we encountered. Our purchase was a pre-owned 2018 Toyota 4Runner. Finance was great, too.
Red Noland PreOwned Dealership is a great place to shop for & buy a used vehicle! I have had the best experience ever in shopping & buying a used Jeep there.
This is my third time purchasing with Red Noland Pre-Owned. I keep coming back because of the trust they have earned in understanding what I want in a vehicle. I have worked with Rick Dymek each time. His professionalism, knowledge, and ease by which he communicates is unmatched in all the 30 years I have shopped for vehicles.
Great car buying experience. Worked with mr noonan who is very professional and pressure free. Also the finance office was great even when i declined any extras. They gave no attitude nor did they try to pressure me into buying anything i didnt want. Will be recommending them to friends/family for sure.
My experience buying a used car from this dealership was positive in every way. I worked with Michael Noonan who was great! I was able to do most of the sale over the phone, as I live a couple hours away from the dealership. Michael drove the car to my home, with the assurance I was not obligated if I did not like the car. He then gave me a thorough explanation of many components of the car. I am very happy with my car and my buying experience.
Red Nolands is an mazing dealership! We were in and out in no time. Thanks Craig for a smooth and quick vehicle purchase!! I will definately be refering friends and family to you!
We had an EXCELLENT experience in dealing with Craig Barela. He explained everything on the purchase without any HOT air and that meant a lot to me and my wife. Craig was very professional in all respects and did not wear dark sunglasses. (LOL) We will drop his name to our friends in case they are looking for a vehicle. God Bless America!!!
Best experience ever buying a car! I have bought several used vehicles, and this by far has been the best! Craig was completely awesome to deal with! The whole deal was completed via email and over the phone, we walked me thru the purchase and financing as if we where face to face, he even drove out of his way to deliver my new car! Red Noland truly values their customers - high quality cars and service!
In the past we've not always had the best experience buying cars and dread the process. That's all changed now- we had the best experience ever at Red Noland preowned. We saw a car we were interested listed in the paper. We called about it and Craig answered and gave us more information about the car and we got really excited about it! We met Craig in the afternoon, took it for a test drive, and then got to the part we always hate- getting the trade-in price and pushing us to buy extras. But surprisingly it went ...
The folks at Red Noland really took care of me! I wasn't even planning on getting a different vehicle since I just purchased a new one in May. It wasn't really what I wanted. When I saw the Shelby Raptor they had, I knew that was the vehicle for me. I didn't think the deal was going to work but LeNita told me to come in and see. I was pleasantly suprised. The whole deal was done in less than two hours, from them looking at my trade, to leaving the dealership with my new ride. I ...
Thank you. LeNita and Heather did a wonderful job answering our questions and guiding us through the entire process. I drove off the lot in a BEAUTIFUL vehicle.
Lanita and Ryan were very helpful with our recent purchase and trade-in at Red-Nolan, not only did they explained the whole process of the sale, but they made it super easy. Thank you!
Craig and Team did a fantastic job of guiding me through the buying process. I love my new vehicle. Thank you for your hard work!!!
Who likes shopping for cars? It is usually unpleasant on so many levels. Except (as I recently found out)...at Red Nolan. They answered all my questions about their car I was interested in...They were very professional in doing the trade-in/buy dance and I felt we arrived at a place that we both were happy with everyone still in an upbeat mood. The paperwork aspect was very expedient and they were not pushy with additional services and explained all the paperwork prior to signing. Overall, it was a great experience (for car buying). Every one of the staff ...
Thank you for the great experience with the purchase of my truck. Michael Noonan is a great asset to your team. Great customer service. Friendly staff.. I will recommend Red Noland to others. Thank you again for my beautiful truck! Satisfied customer here..
Great experience buying my first car. Very efficient and accommodating! They even drove it to me in Denver and swapped out my old car. Will recommend to anyone looking to buy a high-quality used car.
I've waited 6-months to write my review because I wanted to base my overall experience on "after the sale". I have nothing but positive comments for Rick Dymek and the team at Red Noland Pre-Owned. I've owned ~22 vehicles in my life and this was the best experience I've ever had. Not only did they meet my trade-in requirements, they absolutely offered the best price possible for my "new to me" used truck. To top it off, his immediate management team was a pleasure to work with and very personable. Give this man a ...
I've had the best experience buying a car with this dealership. Even with holdups on my end, they've been great to work with!
I purchased a vehicle from Craig Barela. He helped me simplify the process. I saw what I wanted and he made it happen. Quick and easy. I highly recommend this place.
Everybody here that helped me was very awesome and very accommodating. I'm from Wisconsin and came to this dealership because I was in the area on business and was able to find the vehicle I wanted at a reasonable price. Since I wouldn't be able to drive it home right away they were willing to store it for me until I'm ready to travel home or if it doesn't work out for me to drive my new vehicle home they were willing to arrange to get it hauled to my home in Wisconsin. I can't ...
service was great as well as quick to turn overall paperwork and no hard sales on any adds. I had a small mechanical problem in first week and immediately taken care of
Our salesman Craig was absolutely amazing! He was patient, kind and knowledgeable. He made me feel comfortable immediately. Heather in Finance was fantastic as well as the Sales Manager! What a great group of people they have there and my family and I will be back to see Craig for our next purchase!!!
Red Nolan's entire staff was very professional and had us out the door in our Highlander within two hours! Craig Barela was especially helpful, he already had most of the paperwork prepared by the time we arrived at the dealership! I highly recommend this dealership!
Michael Noonan was very helpful in our search for the right vehicle. Highly recommend him. Red Noland always 5 star service and support! 2nd vehicle purchased there and will return.
Michael was awesome!!! Helped me from start to finish. By far the best customer service! This dealership is lucky to have him!! He was very helpful and had my best interest. 5 star service all the way.
Awesome customer service, Brittney was very reputable and knew what she was talking about. The process was very easy and they explained everything in detail.
I would highly recommend Red Noland for your next car purchase. Their used car selection was top notch. Reasonable pricing and fair trade-in value. Craig was knowledgeable and professional. The whole process was quick and easy. Thank you to Craig and the team at Red Noland. I love my new car!
I have bought a lot of cars at a lot of different places in my life. When I went to Red Nolan I was treated with great respect and great costumer service. With that being said this is the only dealership I would return to buy another vehicle from! Thanks for the great experience!!
My wife and I were on a Saturday search for a larger vehicle for our growing family. We came into contact with Deon from a listing on Cars.com. Not only did she recommend the vehicle we purchased, but the entire transaction was so wonderful, we would definitely purchase from her and Red Noland again. Heather in the finance department was stellar and found me a better lender. Such a pleasant experience. 5-Star
I had the pleasure of working with Mike! He was kind, respectful and made my overall experience amazing! I would definitely purchase another vehicle from him in the future!
This transaction on purchasing a used car, was smooth and quick. Brittney and Chris were open to here my interests and limitations and work together in finding a solution in the car for me. It was a pleasurable experience! Thank you!
LeNita made sure our drive from Castle Rock was worth it. What a positive spirit and great energy - she made the buying process seem like we were dealing with a friend.
Great experience, fair price, very knowledgeable and professional. I will refer family and friends to Red Noland. Dealership was very clean, everyone adhered to Covid safety protocols. I felt very safe, in regards to Covid, at the dealership at all times.
Great experience at Red Noland! Rick Dymek made the process easy and enjoyable, and went out of his way to show us the vehicle we were interested in. I initially reach out interested in a vehicle I saw online that was in their inventory. First thing in the morning, Rick sent a video he made showcasing the vehicle and some of the top features. Later that evening, my wife and I had our two children (2yrs and 2mo old) with us, which made it a bit hectic. The outside temp was in the low teens, so they pulled the vehicle ...
Craig was wonderful to work with..He addressed all concerns and followed up promptly whenever there was a question that I had...Heather in finance was able to get me approved without jumping over hurdles!!
Craig, Chris, and Greg from Red Noland are truly top notch. They were extremely patient and not pushy at all as I was deciding between 3 different trucks over 3-4 days. They gave me a very generous amount for my trade and it was greatly appreciated. Definitely the best buying experience I've had in Colorado Springs.
Very good experince. Hassle free buying. My purchased vehicle will be needing tire soon. I asked about the tires and gave me a price for tires. The tire price was at dealer cost so I asked to lower the purchase price to help in purchase of new tires later. The dealer accepted my lower offer and I purchased the vehicle.
Our experience with Rick Dymek was positive in every way. The purchase of our Buick LaCrosse was hassle free, efficient, and the process was pleasant and easy from beginning to end. We are very impressed with Red Nolan.
Michael was so nice and very informative whenever i had a question he was easy to reach whenever i needed to ask a new question
Rick Dymek made the process of getting financing and purchasing a car extremely easy. I was in and out of the dealership very quickly. Everything moved very smoothly. Financing was completed in a matter of minutes. Very professional organization. Highly recommend them.
The Lever of service my wife and i received is of the best that a car shopping experience has to offer. Thank you so much LeNita!
I'm one of those people that detests the process of buying a car, however our experience here was above and beyond what we expected. We will never purchase a vehicle anywhere else!
After our van unexpectedly dying and leaving us having to get a new vehicle when we were less than prepared to do so, we were told by other dealerships that we could not be able to get a car, Simone and the good people at Red Nolan made it possible for us to not only get a car that worked for our family, but a really nice one! Simone was a pleasure to not only work with, but also to chat with when she came to pick me up at my house (as we were down a car) and while ...
A great place to go for a professional and pleasant car buying experience. Rick was very helpful and a pleasure to work with in my purchase of a nice 2012 Ford F-150!
Appreciated the no pressure approach and willingness to go the extra mile when I finally decided the vehicle I looked at was what I wanted.
I enjoyed my pressure free buying experience. I have bought many cars prior to End up Feeling so much pressure to buy all the extra warranties it was offered to me but I fell I was no pressured . I had said I'd never buy from a dealer again after my last couple experiences but you guys proved there not all one in the same ! Thank you I will be back for my Next car ! Thank you
Nice truck thanks! Low miles great dealer and maid the buying process very easy. They took the truck to my house. How nice! Will tell all my friends about it. Thanks!
I just bought a new/used pickup from Michael Noonan at Red Noland. Outstanding customer service from beginning to end, including working with the sales manager. No pressure sales, just good work -- the way is SHOULD be done. Well done!
I went there to trade in my car and to look for an upgrade of a 7 seater. I did not think it would be possible, but I thought I would give it a try. Bruce was unbelievably patient and willing to get us in whatever car fit our needs. He allowed us to look at 5-6 different cars with test drives until we found the one we wanted. I told Bruce unless the price was tight for my trade in I wouldn't accept. He asked the price, and I told him and he said done, he will make sure ...
LeNita made the transaction as seamless as possible! I bought the car of my dreams, which she personally delivered up to Denver ( to avoid me driving down to Colorado Springs ) . I plan to refer her to friends and family when they are looking for a new vehicle! Highly recommend !
purchased a ford raptor from Red Noland. process was easy and excellent. no messing around with pricing. everything was exactly as promised. LeNita did a great job and pleasure to work with.
Great experience at Red Noland. I went in there knowing exactly what I was after. Rick helped me out with the vehicle I wanted. No hassling, no pressure, just all around professionalism. Plus they stayed about 45 min past closing on a Friday night to get me set up with my new truck. Good guys!
Lenita was fantastic! She answered all of my questions and was very kind. To help make up my mind, she offered to let me take the car home for a night BEFORE my purchase as an extended test drive. Overall, great communication and great service. Love my new Jeep <3
My Experience with Chris Maynard and Red Noland Pre Owned Center, Colorado Springs, CO was beyond excellent. I have purchased many automobiles via the Internet and this transaction was by far the easiest. Chris was was very attentive throughout the process and had the car ready to go when I arrived. He promised a quick easy process at the dealership and lived up to that. The car was as promised. We were, in and out, quickly and back on the road. With a 12 hour driving day it was nice to spend such a short time at the dealership. I highly ...
LeNita and the team at Red Noland are absolutely wonderful to work with. They listen to your needs, make the buying process easy and comfortable and continue support after the sale when needed. I highly recommend this group.
I have nothing but positive things to say about my experience here! I walked in, told John what I wanted, and he made absolutely certain I walked out with the truck I wanted for a price I was happy with. The manager I worked with, Chris, is honest and doesn't introduce traditional car salesman tricks/tactics into the mix. I've never had a more desirable experience with purchasing a vehicle!
Heather Findley was amazing in her customer assistance with this purchase. John Eisenbrown also helped by answering questions while we waited for Ms. Findley to finish with another customer. When we entered Ms.Findley's office she was completely prepared with everything we needed to finish the buying of the car. She was kind, helpful and efficient. I believe she is a wonderful asset to Red Nolan. We will be back again when we need another car. Great service!!!
I hadn't bought a car in so long and walked in a nervous wreck. During these difficult times, I wasn't sure what to expect during my car search. This dealership took their time and I was so comfortable during the whole process. Greg, Lenita, and Heather were so professional and I can't thank them enough for getting me into my Murano, I just love it.
I have purchased two used vehicles from the Red Noland Used Car Dealership. Both purchases went quickly and smoothly. I was quite surprised by the level of customer service given for buying used vehicles. Both vehicles were high quality and were just as advertised. Our salesperson LeNita, made the car buying process quick and painless. I would highly recommend ckecking out Red Noland if you are in the market for a used vehicle.
I just bought a used car from the Red Noland PreOwned Center, and would definitely recommend them if you a buying a vehicle. My salesman was John, and he really went above and beyond. He will do what he can to find any answers you many have so that you leave there with peace of mind and a smile. Thanks again John!
I would like to thank all the good folks at Red Noland Cadillac for their patients and service even though it was the 23 December and all good consumers were surely home tucked in their beds. Even at such late hours my sales person Ryan, Matt, Keith and Jeanette were all very helpful during my purchase. Even when I returned for additional upgrades for my vehicle Mike in Service continued to provide great service long after they had my money. If they continue to provide me with such attention to detail and donuts. I will be a customer for life. Thanks ...
We purchased a 2019 Jaguar I-Pace and although the car is a disaster, the sales experience was great. The sales and financing staff were friendly, honest and professional. We were happy with the deal and can highly recommend JLR of Colorado Springs. The service department has also been excellent trying to keep the I-Pace on the road. Fast repairs and good communication are standard. Unfortunately, the car is a failure in many ways and Jaguar USA has extremely poor customer service.
Super easy and efficient to make an appt, easy checkin and check out, and very professional, honest & efficient service. Makes the chore of routine maintenance much less stressful.
As expected, the service department was ready for my car at the appointed hour and they accomplished all the work needed - tires and struts - in a timely fashion. The price was reasonable and better than it would have been at many other service centers. I am on my fourth Cadillac and my third purchased here. I drive 70 miles to Red Noland for service on the car because the staff there is first rate. Buddy Loehr is the Service Advisor with whom I have done business for years. I will continue to rely on the high quality of this ...
Both the collision center and service were great to work with after a nasty deer collision that required a lot of repairs spanning 2 months in the shop. I was kept updated throughout the process and when there was a "glitch", I knew they would make it right. Matthew G who manged the repairs was very professional and respectful with his communications, reassuring me that things would be done at the very highest standards. I especially appreciated Eric G's involvement considering he was in Sales (had found and sold this ATS coupe to me last year) and did ...
This is the best customer service and auto service I've ever received from any dealer in more than 40 years. I'll continue to be a Red Nolan Cadillac customer.
The Red Noland Cadillac Service Department provided me with timely and efficient service to meet my needs. They also provided me with a loaner car over the weekend, since the replacement part needed to be ordered and shipped from Denver.
An outstanding dealership. Good, professional people. Easy to work with and knowledgeable. Their service department are outstanding as well. I'd definitely recommend this dealership to anyone considering buying a Cadillac.
The service was completed, took a few more days due to parts. I was provided a rental while the work was completed, almost decided to buy the rental, loved the new 2018 SRX! Thankful I still have an extended warranty for our Cadillac! In comparison to other deanships we have dealt with, this is a top of line! Staff respectful, and the waiting area is so nice.
Purchased a 2008 Ford F-150. Seems to be doing ok. Need to do an alignment. But no other problems. Would go to Red Nolan again. Very friendly.
My wife and I purchased a used car from Red-Noland Pre-Owned Center. Our saleslady was LeNita Zubrin. She was a pleasure to deal with. We were able to negotiate a trade-in. I thought the pricing of our used car and the amount received for our trade-in were fair.
Our sales rep was more than knowledgeable about the Infinity line. We were treated with respect and never felt we were being pressured to purchase. The vehicle we wanted was available and was a perfect fit for us. Rich made the experience fun and enjoyable. I will be back to this dealership for my next purchase. Can't say enough positive about the way our transaction went.
Very pleasant sales personnel. Enjoyed my visit and got the car I wanted. No pressure and easy to deal with. I am a happy shopper and it went very smooth.
Very pleasant experience , salesmen went beyond expectations, that is why I gave my business to him I always do business with people who do more then what they must, that is why 10% make 90 % of the money, as it should , you reward excellence, and pay nothing for average
We bought a new Cadillac XT5 last weekend. Our overall experience with Red Noland Cadillac was a very positive one!!! Our sales person, Dale Gravelle, assisted us admirably & even came to our home the following Monday to program our garage door opener!!!
Michael Noonan at Red Noland Pre-Owned was a pleasure to deal with, and the process was easy and smooth. I'll go back to them again. Jim- March 8 Colo. Springs
Experience at the dealership was great. The team was very helpful. I did not hear a speech about giving them certain ratings. There was no pressure and they set up the car for me